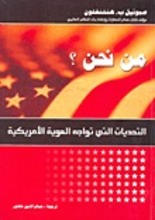 Man nahnu?
(Who Are We? Americas Great Debate)
Samuel Huntington

Sprache: Arabisch

1

. Auflage (

2005

)
Paperback,

371

Seiten
Verfügbarkeit: sofort lieferbar


29.90

€
In WHO ARE WE? author Samuel Huntington turns his atten­tion from inter­na­tional cultural divides to the cultural rifts in America. The patriotic response to the events of September 11 only high­lighted the loss of American iden­tity at home, says Huntington, and already patriotic fervour has begun to subside. The United States was founded by British sett­lers who brought with them a distinct culture inclu­ding the English language, Prote­s­tant values, indi­vi­dua­lism, reli­gious commit­ment and respect for law. Waves of immi­grants later came to America, but they gradually accepted these values and assi­mi­lated into the Anglo-Prote­s­tant culture. More recently, however, national iden­tity has been eroded by the prob­lems of assi­mi­la­ting massive numbers of prima­rily Hispanic immi­grants. bilin­gua­lism, multi­cul­tu­ra­lism, the deva­lua­tion of citi­zenship and the 'dena­tio­na­li­sa­tion' of American elites. To coun­ter­point this, Huntington draws atten­tion to the begin­nings of a revival of American iden­tity in a post-September 11 world where coun­tries face unpre­ce­dented chal­lenges to national secu­rity. WHO ARE WE? is an important work of political, histo­rical and cultural inquiry.